Ultrasonic wall thicknes measurement DM4
This unit is needed for determining the remaining wall thickness after corrosion and erosion damage. It is an intelligent, easy-to-use ultrasonic thickness gauge.
Measurements in pipes, pressure vessels, gas cylinders, storage tanks, tanks for chemical processes but also for bridges, ship hulls, cranes or general steel constructions.
This meter can also be equipped with a high temperature head (600 ° C).
External probe for 1.5m distance
Robust, impact-resistant housing with additional protective rubber cover
Automatic zero calibration
Calibration to known wall thickness is possible
Calibration to known speed of sound is possible
Impact and drop resistant
Technical data
Measuring range – 1,2mm bis 200,0mm
Operating frequency – 5 MHz
Resolution display – bis 99,99mm 0,01mm otherwise 0,1mm
Weight – 290g
Dimensions without cover
Height – 150mm
Width – 70mm
Thickness – 33mm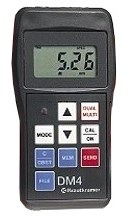 DMS Go Thickness Gauge
High measurement stability and measurement reliability by using the zero-crossing measurement technique.
Automatic gain control for excellent repeatability and corrosion monitoring.
An integrated temperature compensation algorithm allows accurate measurement up to 540 C (1,000° F).
Multiple calibration and zero-point calibration settings for repeatable accuracy, including:

2-point adjustment
1-point adjustment with automatic (on-block) zero-point calibration for each measurement (coupled)
1-point adjustment with user zero-point calibration in air (not coupled)

Several types of measurement for any application including:

A picture
Wall thickness
B-picture
Min/Max
Differential

Support of multiple probes and functions for virtual support of each probe using the function for customized setting of the probe.
Ability to operate in harsh environments with dust and moisture sealing according to IP67
Weld inspection
Trigonometric Projections

Calculation of surface distance, depth and sound distance to the reflector.
Curvature correction (correction of the projected position in radial scanning).
Color change (facilitating the positioning of the reflector, which indicates the different changes, with different colored backgrounds.

AWS

Automatic assessment in accordance with AWS D1.1 Code for welding in buildings

DAC

Allow for the assessment in accordance with EN ISO 17640, 11666 and 23279

AVG

Allow for the assessment in accordance with EN 1712

trueDGS ®

Significantly improved design options according to EN 583-2
Composites
RF display
2 gates, where B-start is triggered with echo in Gate A
Depth compensation (TCG) with high slope 120dB/µs for high damping materials
Eisenbahn
High IFF (up to 2000 Hz)
Lightweight (850 g/1.87 lbs.)
Small size and ergonomic
Accessories (Ergonomics Set: Hand strap, shoulder strap and belt attachment)