3D Scanner – ROMER Hexagon Metrology INFINITE
Technical Parameters Scanning Arm:
Patented rotation axes without rotation limiting
Highly reproducible push-button quick-change system with automatic probe recognition
Wireless communication
Heidenhain angular encoders manufactured
Carbon fiber construction of the measuring arm for greater stability and therefore more independent to temperature changes than aluminum or steel
Changing of button without tools, recalibration and measurement program interruption during a measurement sequence
Mobile use
Coefficient of linear expansion 0.25 μ/°C/m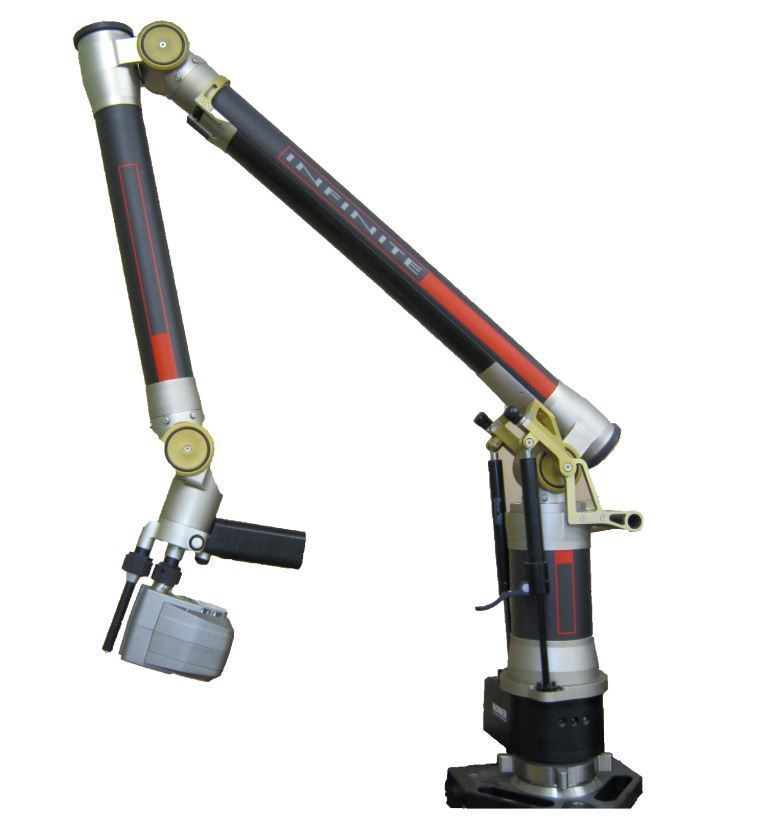 ScanWorks V5
This sensor works on the principle of laser triangulation. That means that the scanner detects the profile lines that form the planar fanned light from a solid-state laser on the surface of the measured object. The operator easily controls the data collection via buttons on the measuring arm. The individual profile lines are transferred into a common coordinate system via the position of the measuring arm. By combining these profile lines a 3D image of the component topology finally is created.
With up to 7640 points along the laser line at a frequency of 60 Hz ScanWorks provides an excellent data density. This sensational scan rate of up to 458400 points per second gives a minimum resolution of 12 μm.
The calibration of the optical sensor is done completely separate from the measuring probe. Within a few minutes, the operator can adjust the sensor to the coordinate system of the portable KGM, without first having to calibrate the sensor. The factory rectification of the sensor ensures a measurement accuracy of 24 μm 20 over the entire field of view.
Technical Paremeters Sensor:
Dimensions: 115x100x80mm
Weight: 438g
Profile Thickness: 7640 points / line
Updating Frequency: 60Hz
Scan-Rate: 458400 points / second
Medium point-to-point resolution: 0,0137 mm
Measuring distance: 100 mm
Depth of field of view: 110 mm
Width (short-range): 93 mm
Width (medium-range): 105 mm
Width (long-range): 140 mm
Measuring accurancy: 0,0240 mm 2 (Corner Test)
Feature resolution: 0,0045 mm 2 (Ball Test)
Sensor-repeatability: 0,0050 mm 2 (Ball Test)
Laser protection class Class: 2M, Wave Length 660 nm
Certifications: UL, CSA, CE
Operating environment: 10°C to 40°C
Protection: IP64 (Sensor) / IP31 (Control Unit)