MIC 10 DL
Hardness tests are always an issue and here we can fall back on the MIC 10.
We are using an UCI (Ultrasonic Contact Impedance)
Hardness testing on site according to the UCI method (Ultrasonic Contact Impedance)
Standardized according to ASTM A 1038
Probes with test loads from 1 N (HV 0.1) and 98 N (HV 10)
Automatic conversion into different hardness scales and tensile strength (only 98 N-probe)
Display of individual values or averages of a series of tests
Data logger versions with internal data storage for data and device settings
Test Methods:
Hardness testing with Vickers indenter (126° diamond pyramid), evaluation of the test indentation under load.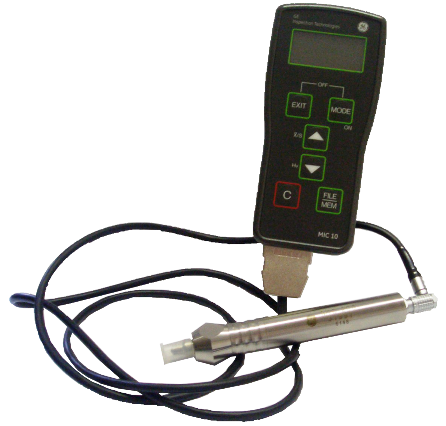 PCE-HT200
With this tester, the hardness of rubber can be determined. The accuracy is 0.1 hardness units.
Can be used both mobile and stationary
Compliance with all current standards of hardness tests
Holds the maximum value (peak hold)
Suitable for single and series measurements
Data transfer to PC or laptop possible
Technical Data
Measuring Range: 0 … 100
Resolution: 0,1 Hardness – Grade
Accuracy: ±1 Hardness – Grade
Displayable values: Current hardness, maximum value, average value (maximum value is kept)
PC-Interface: RS-232
Data cable: Optional assembly
Further functions: Auto shut-off, low battery display
Power supply: 3 x Batterie 1,25 V (V357)
Battery life span: ca. 300 h
Operating temperature: 0 … +40 °C
Dimensions: 168 x 31 x 30 mm
Weight: 145 g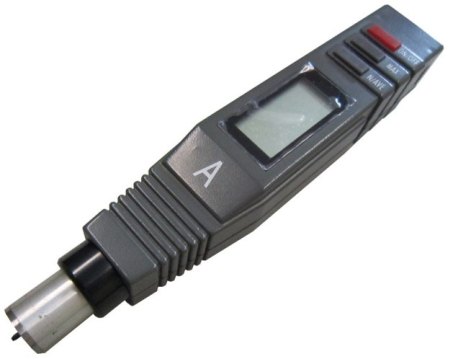 Krautkramer TIV Hardness Tester
Using a special lens, the innovative TIV method (Through Indenter Viewing) uses a direct optical evaluation of the diamond according to Vickers indentation under load. The image of the impression is transmitted to the display device and is evaluated automatically.
Hardness testing according to Vickers under test load
Look through the Vickers diamond using a special optical system and a CCD camera
Direct control and evaluation of the quality of the measured value by checking the impression on the color screen
Fully automatic evaluation of the diamond indentation and immediate determination of the diagonal lengths
Independent of the test direction and the material of the specimen
Measuring range is from 30 HV up to over 1000 HV (depending on probe)
Technical Data:
Base Instrument
Weight: ca. 1400g (incl. battery pack)
Display: 14,5cm TFT, 240×320 Pixel
Probe
Housing: VA, Aluminium
Weight: ca. 630g
Protection: IP 42
Interface
RS-232: bidirectional, 9-pol. Sub-D
Ethernet: 10MBit/s
Special Cable Connector: 20-pol. AMP 050
Power Supply: Low voltage socket 12V 2A
Evaluation
Measuring Methods: TIV (Through-Indenter-Viewing) with Vickers Diamond
Penetration Method: Diamond Pyramid according to Vickers, Roof Angel 136°
Measuring Tolerance: ±3,6% maximum deviation of the average from 5 measurements from nominal value of the best block. (for measurements at room temperature)
Span: 5% maximal (200 … 900 HV), depending on the material, surface and temperature
Statistic: Average, Span, Standard deviation, Min., Max., Process Capacity Index
Conversion: According to DIN 50150, ASTM E140
Conversion Scales: HV, HB, HRB, HRC, HS, N/mm2